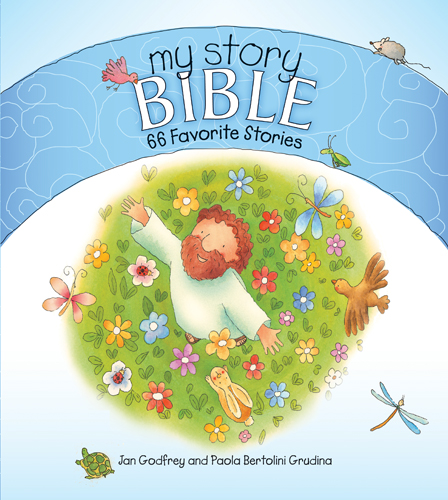 Now I know what you're thinking, this is not the standard fare for my blog. But I do have a six-month old now, and so my blogger book review program may feature the occasional children's book. As the resident artist in the Totten family, my wife also made some contributions to this post, so what follows is the first official Totten family post.
My Story Bible
by Jan Godfrey and Paola Bertolini Grudina is a great introduction to the Bible for young children. I was very impressed with the hand-drawn pictures on every page that illustrate some of the most memorable stories in the Bible. I was surprised, however, to find how many of the biblical stories were witnessed by butterflies, ladybugs, bunnies, birds, and cats. I kid.
There are 66 stories in
My Story Bible
. However, before you think that there is one for every book in the Bible (there are 66 of those too), I must clarify that they picked 66 of the most dominant, important, and memorable stories from the Bible, not one from every book. Noticeably missing are stories from Leviticus, Numbers, and Deuteronomy. I said noticeable, not necessarily unfortunate. Also, missing is the account of Hosea and his prostitute-wife Gomer. All in all, good editorial decisions for a children's Bible.
All kidding aside, my wife and I are very pleased with
My Story Bible
and have already begun reading it to our daughter. She really likes the butterflies and bunnies.